Trending
Low Fixed Interest And No Penalty Fees. Primor Secured Visa Gold Credit Card
Green Dot primor® Secured Visa Gold Card
Establishing a credit history or repairing your credit score after previous financial mistakes aren't easy. You need to find a secured credit card that will help you begin to rebuild your credit. You must be certain that you have learned what to look out for when using the secured card Primor secured Visa gold card, and you can use these tips to better repair your credit. You cannot fix everything all at once, but you can get started much better with a card such as this. You need to find a credit card available for people who don't have the best credit scores, and that often leaves you browsing cards that have very high-interest rate and all kinds of fees. Fortunately, those aren't your only options. Green Dot offers a Primor Secured Visa Gold Card that's known for having low fixed interest and no penalty fee. The card was originally offered by Berkshire Bank until Green Dot took it over. Read on to find out what makes this Primor credit card the premier benefits card on the market.
What You Need to Know About the Primor Secured Visa Gold Card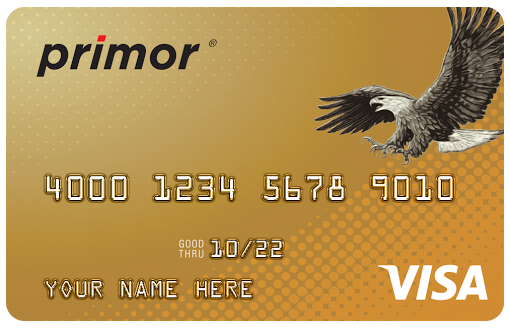 The important terms related to this Primor credit card are as follows:
The annual percentage rate (APR) is 9.99% for purchases
The APR is 18.99% for cash advances, plus you pay the greater amount of $5 or 5% of the transaction as a cash advance fee
Credit limits range from $200 to $5,000
The annual fee is $49
Additional cards have a $29 fee
Late and returned payments each have a $29 fee
The foreign transaction fee is 3%
If you're looking for a credit card with low fixed interest and no penalty fee, it's hard to beat this Visa gold card. At a 9.99% APR, it has one of the lowest interest rates that you'll find. Since this is a secured credit card, you must pay a refundable security deposit when you get the card. This deposit becomes your credit limit – if you pay $500, you'll have a $500 credit limit. Keep in mind that you pay the annual fee for your first monthly payment, and this does count against your credit limit when you first get the card. In the aforementioned example with a $500 deposit, you'd have $451 of available credit when you got the card due to that annual fee.
What Is The Low Fixed Interest On This Card?
A secured card gives you low fixed interest, and you can call the company at any time to ask what their rate is right now. The benefits of using secured card Primor secured Visa gold cards include the low-interest rate, rewards from some companies, and the ability to make purchases anywhere. You will repair your credit without making huge payments every month, and you will be much more confident in the way that your finances are improving.
How Do You Apply? 
You can apply at any time online or through the ad that you were sent in the mail. You might want to apply. Over the phone so you can get help from a customer service associate, and you can ask them, "what is the low fixed interest on this card?" You can talk to these people about the card, and you could call back at any time for more advanced customer service. The company has a good track record with customer care, and they will give you any help you need from applications to payments and rewards.
Why Do You Need This Card?
The benefits of using secured card Primor secured Visa gold are vast because you pay a much lower interest rate, get rewards, and have a fixed rate that lowers your payments. You might need this card because you cannot get any other card, and you will find that the secured credit on your credit report looks really good. This is one of the safer cards to use, and it does come with rewards that you really need.
Getting the Card
The application process for this card is fast, taking only a couple of minutes. Since it's a secured credit card designed for improving credit, applicants typically get approved even if they have a poor credit score or zero credit history. You can apply online, and the preliminary portion of the application requires the following information:
Your name
Your email address
Your home address and how long you've lived there
Your phone number
It also asks you if you currently have a checking account. After you go through the preliminary portion, you can complete the remainder of the application. This will require some basic financial information along with your Social Security number. Green Dot verifies your identity and your address after you submit your application. If that information checks out, then you should receive approval for a card. To get the card, you do need to fund a savings account with Green Dot. You can use the money you put into this savings account to pay your refundable security deposit on your card.
What To Look Out For When Using The Secured Card Primor Secured Visa Gold 
You have to be sure that you know the interest rate they are offering right now, and you should look into the way that they can help you drop your rate through some sort of promotion. There are times when the company will give special deals, and you must take advantage of these deals. You might get a higher starting limit because of a promotion, and you could ask the company for a better rewards package as part of a promotion.
Where You Can You Use This Card?
You will use this card anywhere that you want, and you will find that it has just as much spending power as any other card. You are stuck behind a logo that does not allow you to truly shop, and you can use the benefits that come with any other Visa card. In fact, you might call Visa for help with concierge services that are available to all cardholders. The benefits of using secured card Primor secured Visa gold are vast because it works all over the world. You can travel with it and can save rewards for future use.
Improving Your Credit with the Primor Secured Visa Gold Card
Although some applicants may not like opening a savings account with Green Dot to get this card, it doesn't take long and you need to deposit money for your card's security deposit, anyway. And this card is well worth it if you want to increase your credit score because Green Dot reports to all three of the credit reporting bureaus. If you use your card responsibly, expect to see your score improve. How can you make sure that your credit score improves by using this card? You need to focus on two things – paying the bill on time every month and keeping the balance below 30% of the credit limit.
The Importance Of Your Payment History
Payment history is most important when it comes to your credit score, and the best way to build it is with a credit card. You do need to make purchases with your credit card every month, because if there isn't a bill, then you don't have a payment to make. Even though this card has low fixed interest, it's still best to pay off your balance in full every month and avoid interest charges entirely. Credit utilization comes right after payment history in terms of importance, and the credit bureaus could check your utilization at any point in time, not just after you've paid the bill. If yours is below 30% at all times, you'll be fine here. This Visa by Primor is an excellent choice to help you with your credit score. With its favorable terms, it's the premier benefits card and it won't break the bank when it comes to interest or fees, either.
Who Can Use These Cards?
Anyone can get one of these cards. However, students and young people must know what to look out for when using the secured card Primor secured Visa gold. Young people are often trying to establish credit, and they need to know how this card differs from others. You must know how much you can raise your spending limit to, and you must call the company any time you believe that you need a lower interest rate. There are programs that allow you to drop the rate much lower, and these programs make it much simpler for you to save money.
Can You Get A Better Card? 
You can move to a better card if you have established more credit, and you might call the company to ask, "what is the low fixed interest on this card?" They will let you know how much better a new card could be, and you might carry both cards because they make it easier for you to manage your finances. You need a credit card that you can use in emergencies, and you should keep a card that has a very low rate. There is no reason for you to max out one card because of a bad interest rate. Get something that helps you keep the payments down, and use that card as much as you need so that your finances are stable.
Conclusion 
The credit card that you get to repair your credit will be more helpful to you when it is a form of secured credit. The interest rate is fixed, and you will make reasonable payments on these cards every month. The cards could give you rewards that pay you back, and the cards are helpful in emergencies. You might step up to the next card that is available if you need it, and you might notice that you can use this as a student card if you are trying to help your kids establish credit. Everybody wins, and you still have access to all the services that Visa provides to their cardholders.